Never Get Stumped Again - I'm a Text Message Away
99% of the time business people get stuck, making little progress toward their goals, because they get hung up on some little question they don't know. Or maybe they're nesting on negative thoughts that make them want to give up or procrastinate.
What if for a solid year, you didn't have to get stuck? Imagine the momentum you could maintain, moving confidently forward each and every day! Each little nagging question answered, so you keep making progress! Wow! Your results will be AMAZING!
Introducing my 

Daily Answers Hotline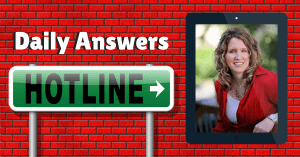 With my Daily Answers Hotline I'm actually going to give you my cell number to text your questions to me.
Whether it's a tech issue, a business or marketing question, or maybe you just need to get your head on straight with a little belief-shifting or affirmations, I'll be on your side each weekday to help you maintain your momentum.
Here's how it works...
First, on Mondays' you'll be able to hop on LIVE via Zoom to my Marnie's Marketing Mondays where you'll get instruction on the latest tactics for marketing your business, AND you'll be able to bring your questions to this web conference.
Then, Tuesday - Friday, you'll have my personal cell phone to TEXT me one question per day. That's right! Each Tuesday - Friday, just text me your question by 10 am ET and I'll answer it for you within 24 hours. (Note that you may email it if texting isn't your thing.)
You'll be able to do this for a FULL YEAR! That's 50 weeks (I get 2 vacation weeks).  That's 200 questions throughout the year plus, a full year of Marnie's Marketing Mondays.
For full year, I'll be your personal secret weapon! Whenever you have questions about any of these subjects, I'm only a text message away:
Online business
Information Product Development
Book writing, editing, publishing or marketing / book launches
Online marketing
Facebook Marketing and Advertising
WordPress
Aweber / 1 ShoppingCart questions
Social media strategies
Entrepreneurship
OR, if you just can't get your head in the game and you want a quick SimplyHealed Method(TM) energy tuneup, I'll do that too!
Ask 1 question per day Tuesday - Friday. Remember questions don't stack up. Use them or lose them! So ask away, each day!
First Click Here to Set Up a 20-Minute Phone Conversation with me to make sure this is a fit for you.
Or if you can't find a spot, email me and let me know what you'd like to accomplish in the coming year.
If Accepted, You'll Be Able to Choose The Plan That Works Best For You:
Monthly Option
$197/month
(At least a 6 month commitment required)
3-Payment Option
3 Payments of $647
Gives You 1 Year of Support
(You Save $423!)
Save with Single-Pay
One-time payment of
Only $1,797
(You Save $567!)
Gives You 1 Year of Support
Only $1,497!
(You Save $867!)